Offering a beautiful way to share God's Word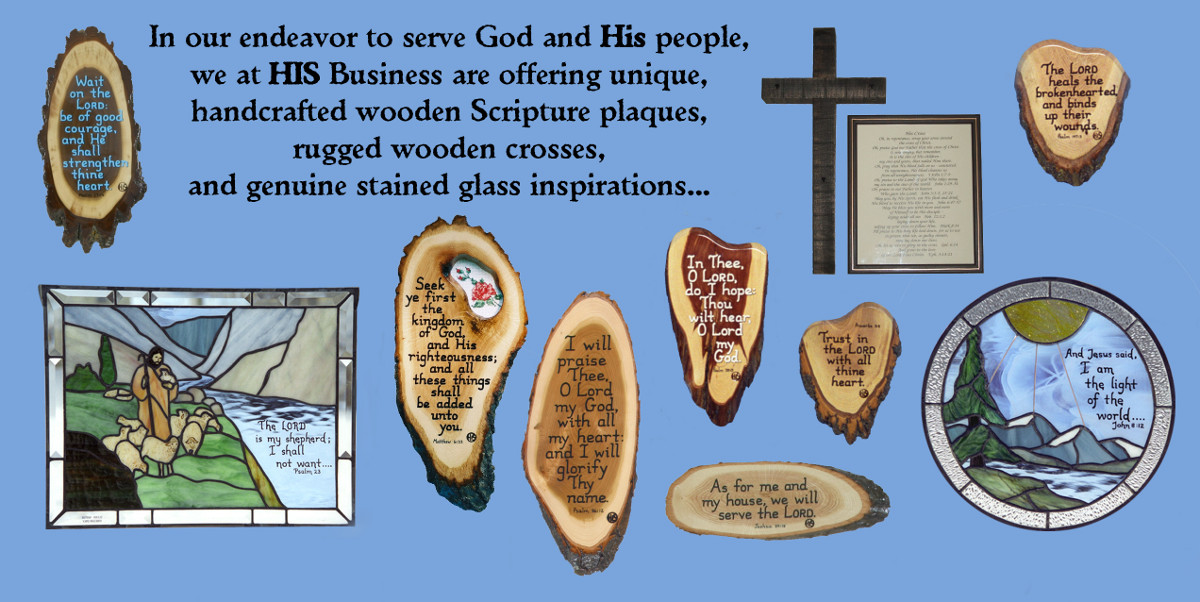 We welcome you to HIS Business.

Seeking to honor God, Who loved so much that He gave His Son and His Word, we at HIS Business handcraft and offer inspirational plaques, rugged wooden crosses, and stained glass window panels centered upon Scripture. We do this from the deeply held conviction that God's Word changes lives.
"All Scripture is given by inspiration of God, and is profitable for doctrine, for reproof, for correction, for instruction in righteousness: that the man of God may be perfect, thoroughly furnished unto all good works." II Timothy 3:16-17
If you are looking for a handcrafted Christian gift with a Bible verse on it, HIS Business has a large variety of beautiful products to offer you. These include inspirational plaques, bookmarks, and magnets inscribed with your favorite Bible verses, or a Bible verse we select under the theme you choose. We also offer a small rugged wooden cross or a large cross set which includes a framed text displaying Scripture thoughts about the cross. Our distinctive stained glass window panels are designed around themes of nature and each includes a Scripture thought.
Displaying God's Word in your home, office, school, or church provides needed inspiration, instruction, comfort, or encouragement. Our large assortment of products like plaques, crosses, and window panels ensures that there is at least one with your favorite Bible verses that will be perfect for that certain room, window, desk, or shelf. We have found them to be a wonderful tool in sharing God's Word with people in nursing homes, hospitals, waiting areas, crisis centers, etc. We firmly believe if people place God's Word in places where it can be readily seen, the Holy Spirit will cause it to be read. Fruit for God's kingdom will be borne, and His will done in preaching the gospel.
We invite you to explore our site. Surely you need or a friend or family member needs inspiration. These inspirational/ Christian gifts are developed from start to finish by people of prayer – who insist, "Thy will be done. Thy kingdom come." People who emphatically agree and insist, "Thine is the kingdom, and the power, and the glory, forever." Let God arise and save, and may Jesus Christ our Lord be lifted up to draw men unto salvation.